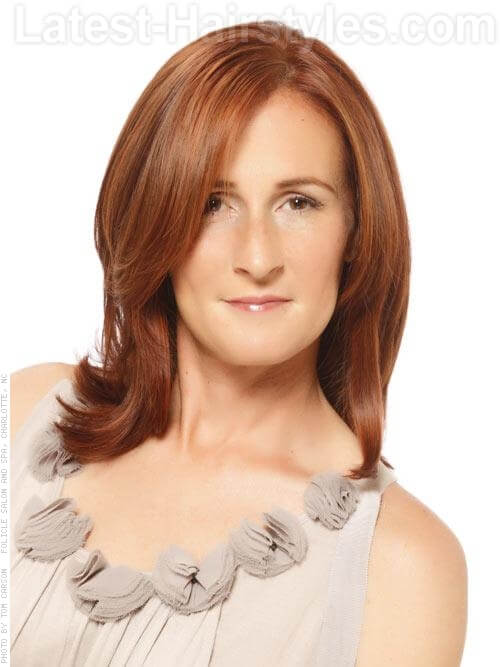 Reds have taken a fresh comeback lately and rich copper tones like these are really turning heads. Consider adding some red or copper colors to your hair on your next visit to the salon. This simple yet stylish haircut keeps the cut from being heavy and highlights the awesome color allowing the copper hue to be the star.
How To Style:
Put the appropriate styling products in your hair after getting out of the shower and towel drying.
Use your blow dryer to remove most of the moisture in your hair and then section off medium sized sections of hair, starting at your nape.
Take your blow dryer and a medium sized round brush and blow dry each section, dropping a new section down after the last one is completely dry.
Blow dry hair under or out depending on the look you are going for.
Really pull hair up and back when you reach the top sections of your hair for optimal volume.
Blow dry your bangs forward and to the side to finish them off.
Recommended Hair Products:
Try Healthy Sexy Hair's Spray In Conditioner. It smells amazing and also has tons of conditioning properties. Then layer in their Taming Foam for amazing volume.
Best Face Shape and Hair Type:
This classic haircut looks amazing on all face shapes and works best with straight to wavy hair, thick to thin.
Tip:
Always consult your coloring professional when thinking about a new shade. They will be able to give you valuable insight into maintenance, skin tone, and more to help you select the perfect color for you.
Please give your comments if you like the post and also if you have any suggestions.