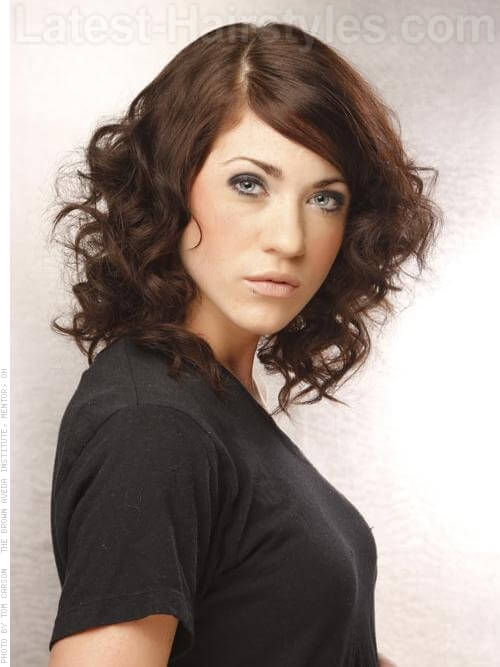 Fun and whimsical curls on the ends contrast smooth soft roots – a great way to make your curls modern and fresh. Long side swept bangs help frame the face and are another way to help balance the curls and the smooth look.
How To Style:
Diffuse naturally curly hair. If you have straight hair, try curling it with a 1″ or larger curling iron.
Spray with hairspray before and after each piece to really keep the curl tight.
When you are finished curling, spray your entire head of curls again with hairspray and scrunch up with your fingers to add texture.
Recommended Hair Products:
Use a mousse for hold and taming frizz while diffusing. Try EXXUS Mousse Plus from Nexxus. I absolutely LOVE Healthy Sexy Hairs Soy Touchable Hairspray for locking curls in place or for scrunching throughout the day.
Best Face Shape and Hair Type:
Great for curly haired girls with thick hair and any face shape.
Tip:
When scrunching your hair, grab the ends of hair and work your way up, pushing hair up and into the roots.
Please give your comments if you like the post and also if you have any suggestions.