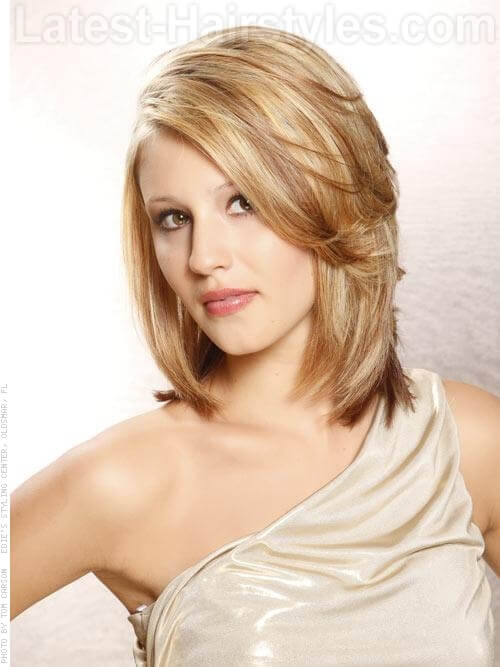 Platinum blondes are opting for more toned down and natural colors this year. Blended highlights are flattering and less maintenance than extreme bleached out looks. Lots of layers and long bangs help add tons of softness and movement to this cut.
How To Style:
Use your blow dryer to remove most of the moisture in your hair and then section off medium sized sections, starting at your nape.
Take your blow dryer and a medium sized round brush and blow dry each section, dropping a new section down after the last one is completely dry.
Blow dry your hair under to create this particular style.
Really pull hair up and back when you reach the top sections of your hair for optimal volume.
Use a flat iron to really smooth your bangs forward and to the side.
Also use the flat iron to help flick under any pieces that didn't quite make the cut with your blow dry.
Recommended Hair Products:
Pureology Glossing Mist is fabulous for adding shine and a little goes a long way. Simply spray on hair before or after flat iron and run through with an iron or your fingers.
Best Face Shape and Hair Type:
A side part is usually flattering on all face shapes and this length hits at a great spot too. The sleeker and straighter your hair is naturally the better for this look. Thick or thin amounts of hair will work just fine.
Tip:
Sometimes too much of something can be a terrible thing. Make sure you aren't overusing products which can sometimes lead to greasiness, heaviness and hard to manage hair.
Please give your comments if you like the post and also if you have any suggestions.