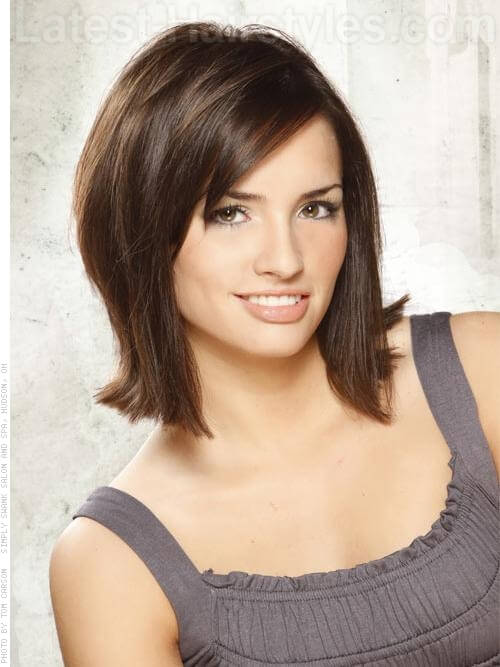 Chocolate tresses are shaped into a beautiful modern bob with dimensional layers and sweeping bangs. This length is slightly longer that a traditional bob which keeps it fresh and sleek. The short to medium layers throughout add volume and interest and also keep this cut from looking heavy. Keeping the bangs soft and to the side frame the face beautifully and effortlessly.
How To Style:
Put the appropriate styling products in your hair after getting out of the shower and towel drying.
Use your blow dryer to remove most of the moisture in your hair and then section off medium sized sections, starting at your nape.
Take your blow dryer and a medium sized round brush and blow dry each section, dropping a new section down after the last one is completely dry.
Blow dry hair under or out depending on the look you are going for.
Really pull hair up and back when you reach the top sections of your add for optimal volume.
Blow dry your bangs forward and to the side and you're done!
Recommended Hair Products:
Use some type of mousse or foam to help add volume to your look. Try Redkens Body Full Foam at the crown of your head or try Prives Shining Weightless Amplifier. Also use a smoothing leave-in conditioner for softness and shine and also to help prote
Best Face Shape and Hair Type:
Usually a bob is less flattering on an oval shaped face because it enhances the vertical lines. If you feel confident with a blow dryer, all hair types can try this look though it is probably easiest for naturally straight to wavy hair with medium thickness.
Tip:
Practice makes perfect when blow drying your hair on your own at home. Ask your stylist for help if you need any direction or find yourself getting stuck. Also remember you can use a flat iron at the end to touch up any frizzy pieces you may have missed with your blow dry.
Please give your comments if you like the post and also if you have any suggestions.