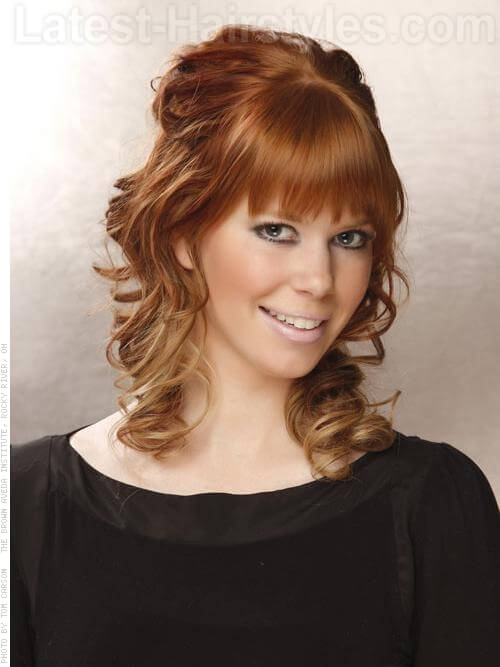 This unique color fades from a deep copper into a dark strawberry blonde. So on trend right now! These fun curls are not overdone because they are balanced with the sleek bangs and a half-up style. A razored fringe keeps this looking soft and not blunt which is much more versatile for styling.
How To Style:
Drop down a medium section of hair by your neck and clip the rest of your hair up to make it easier for styling.
Take small piece of hair from the section you dropped down and curl with a medium sized curling iron.
Spray the entire curled section with hairspray and then drop down another section and curl.
Continue this process until your entire head is curled.
Flat iron your bangs forward to smooth.
Being careful to not break up any of your curls, take a top section of hair and secure back with pins.
Recommended Hair Products:
Use Big SexyHair Spray and Play Volumizing Hair Spray on curls for amazing hold and volume! Also spray some on the bangs and piece some hairs together with your fingers by pinching to enhance your fun jagged edges.
Best Face Shape and Hair Type:
This style is great if you have naturally curly hair, simply diffuse with a blow dryer instead of curling to get a similar look.
Tip:
Bows are a hot trend right now so consider clipping one in your hair for an even more hip look.
Please give your comments if you like the post and also if you have any suggestions.