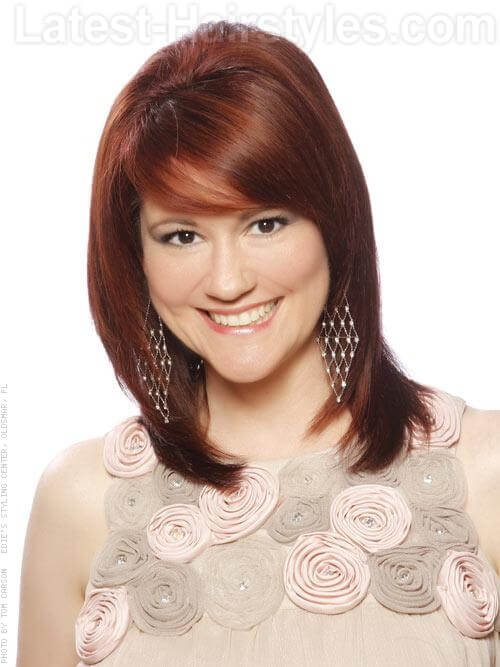 Another amazing example of a rich red color! Loving this color trend for 2012. This particular shade has a lot deeper base with subtle copper highlighting throughout to help create movement and depth. This adorable cut frames the face beautifully with chiseled layers in the front and longer layers throughout. An extreme part also helps frame the face and create a fun shape.
How To Style:
Use your blow dryer to remove most of the moisture in your hair and then section off medium sized sections, starting at your nape.
Take your blow dryer and a medium sized round brush and blow dry each section, dropping a new section down after the last one is completely dry.
Blow dry your hair under to create this particular style.
Really pull hair up and back when you reach the top sections of your hair for optimal volume.
Use a flat iron to really smooth your bangs forward and to the side.
Also use the flat iron to help flick under any pieces that didn't quite make the cut with your blow dry.
Recommended Hair Products:
Use Moroccan Oils Signature Treatment Serum in your hair wet and dry to protect hair from heat, humidity, frizziness and more.
Best Face Shape and Hair Type:
Believe it or not, this look would be fabulous on a round face shape. Straight to wavy haired girls with thick to thin hair can try out this look.
Tip:
Always consider highlights or lowlights to add dimension to your color. Even subtle pieces will really change the overall look of your style and make you pop.
Please give your comments if you like the post and also if you have any suggestions.