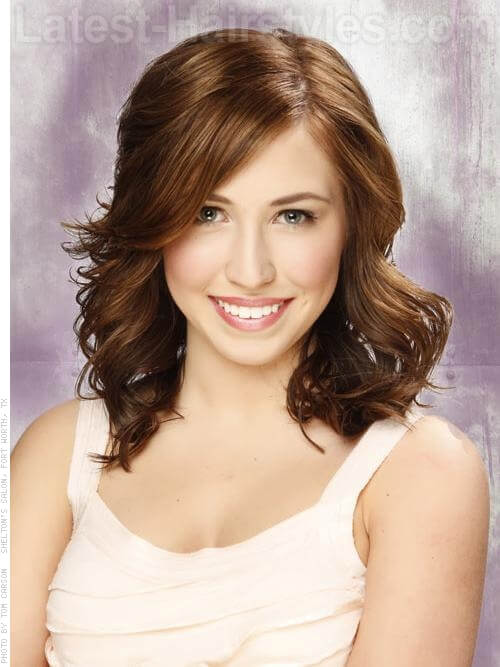 This look is perfect for a medium length cut and style. Medium to long layers help this haircut stay light and full of movement while flipped back curls add a fun and flirty vibe that is totally girly. Long side bangs are perfectly proportional to the length and blend into the layers beautifully. Were also in love with this auburn brown color that totally glows!
How To Style:
Blow dry hair with a round brush or paddle brush to smooth.
When hair is completely dry, take a large barrel curling iron and take medium sized vertical sections of hair, starting at the face, and curl back and away from your face.
When you are done curling, spray with a light hold hairspray or texture spray.
Then rub a small amount of serum in your hands and pull through your curls to break them up a bit and make them look loose.
Recommended Hair Products:
I love Prive's Finishing Texture Spray because it has flexible hold and a light waxy texture to make your curls and layers look defined. Follow up with Prive's Shine Serum, just a small dot of serum will do, to finish off your look and add incredible shine.
Best Face Shape and Hair Type:
This look is amazing for all faces because it softens any jaw line shape. This style is perfect for naturally wavy haired girls with fine to thick hair.
Tip:
If you use a curling iron for the bangs, curl very quickly or you may get too much of a roll. Try a flat iron to sweep bangs back and still create a flip on the ends without over curling for a better result.
Please give your comments if you like the post and also if you have any suggestions.